Mini-states Down Under are sure they can secede. You won't find them on any map but, in the minds of their creators at least, they are as real as Brisbane or Bondi Beach. As Australia wrestles with the issue of whether to become a republic, it faces a constitutional challenge of its own as a growing number of mini-states declare their "independence". The trend started in 1970 when a West Australian farmer, Leonard Casley, announced his property's secession as a protest over grain quotas, proclaiming himself Prince Leonard of Hutt River Province. Prince Leonard and his wife, Princess Shirley, continue to run their tiny principality, issuing passports and welcoming thousands of tourists a year. Australia boasts about 20 "nations", each undeterred by the fact that their existence has no legal foundation.
Some are motivated by ideology, others by a grudge against the local council or a reluctance to pay taxes. "There's a long tradition in Australia, borne of our convict heritage, of showing disrespect for authority," said His Imperial Majesty George II or George Cruikshank, a sales manager from Sydney. "We've inherited the English love of eccentricity."
Mr Cruikshank, 38, has set himself up as the Emperor of Atlantium, which consists of his one-bedroom apartment in the harbourside district of Potts Point. It claims nearly 1,000 "subjects" from Azerbaijan to Peru, with citizenship open to anyone prepared to fill out an application form and pay £3 for an embossed certificate.
A few miles away, on the north side of Sydney Harbour, lives Prince Paul of Wy, who seceded from his local council in November after 11 years of arguing over permission to build a driveway to his home. He declared his property to be an independent principality on which he could build what he liked – an assertion yet to be tested.
The Gay and Lesbian Kingdom of the Coral Sea is founded on loftier principles and consists of a handful of tiny islands scattered over thousands of square miles of ocean off Queensland. It is billed as a "homeland" for gays and lesbians and was founded last year as a protest at the government's refusal to recognise samesex marriages. No one lives on the islets of the Coral Sea but the kingdom boasts a high court, chief justice and an absolute ruler, His Majesty Emperor Dale.
.
While some mini-states come and go, In 2005, Hutt River Province celebrated its 35th anniversary. Princess Shirley, 76, claimed to have government documents that, she says, recognise the province as a legal entity.
.
.
Constitutional lawyers beg to differ:
"These states have no recognition or status under Australian law whatsoever," said Prof George Williams of the University of New South Wales. "It's a nice way of thumbing your nose at authority but ultimately it's just a fantasy."
Micronations cannot exist due to section 123 of the Constitution, as boundaries cannot be altered without approval of the people of the State or states in question by referendum. As well as covering Clause 5 of the Constitution which provides that the Constitution and all laws made by the Parliament of the Commonwealth shall be binding on the courts, judges, and people of every State and of every part of the Commonwealth.
⁠
See for example Williamson v Hodgson [2010] WASC 95, where Mazza J. stated:
"The only lawful means by which land ceases to become a part of the state is set out in s 123 of the Commonwealth Constitution. The procedure described in this section has not been followed. Mr Williamson, or more correctly the land he has some connection with, has not lawfully seceded."
See also Maxwell (also known as Harley Robert Williamson) v Bruse [2012] WASC 12, Williamson v The Bendigo Adelaide Bank Ltd [2012] WASCA 208 regarding the "Principality of Pentecost", upheld by the High Court in The Bendigo Adelaide Bank Ltd [2013] HCASL 107)
These provisions have been cited by the highest courts on this point many times, and no claim of individual secession has ever been successful. See for example, Harris v Muirhead [1993] 2 Qd.R. 527 and the following cases:
Brackstone v Police [1999] SASC 35:
Fyffe v State of Victoria [1999] VSCA 196:
Upheld by the High Court in Fyffe v The State of Victoria [2000] HCATrans 201:
Lee and Robert Rumble v Liverpool Plains Shire Council [2012] NSWDC 95:
Whiting v Whiting & Anor [2014] QSC 187:
Ngurampaa Ltd v Balonne Shire Council [2014] QSC 146:
On 23 October 2007, The Australian Ambassador to the United Arab Emirates, Jeremy Bruer, said the Embassy had learned that an office purporting to represent the "Hutt River Province" was operating in Dubai and allegedly selling travel documents.
"In 1970 A Western Australian farmer re-named his property Hutt River Province' in a unilateral declaration of independence. The Australian Government does not legally or otherwise recognise the so-called Hutt River Province."
In 2008, the Council of the European Union issued a memorandum identifying Hutt River passports among known "fantasy passports … issued by private organisations and individuals" to which a visa should not be affixed. The memorandum makes no separate recommendation for handling of a diplomatic passport issued by the Principality of Hutt River.
Casley v Commissioner of Taxation [2007] HCATrans 590:
"These are applications to remove two sets of proceedings from the Geraldton Magistrates Court to this Court under s 40 of the Judiciary Act 1903 (Cth). Each of the proceedings relate to offences of not filing taxation returns. The applicants contend that they reside in the so-called "Hutt River Province" and that that is not part of Australia and not subject to Australian taxation laws. The arguments advanced by the applicants are fatuous, frivolous and vexatious. They certainly raise no issue justifying removal under s 40. There are in the joint application book copies of documents purporting to be notices under s 78B of the Judiciary Act. They have been filed. It is not clear whether they have been served. In view of the completely unarguable nature of the points raised by the applicants, there is no matter of the kind described in s 78B and there is no obstacle to the application being dismissed now."
In 2017 in Deputy Commissioner of Taxation v Casley [2017] WASC 161, Justice Le Miere of the Supreme Court of Western Australia ordered Leonard Casley to pay more than A$2.7 million in unpaid taxes, and Arthur Casley to pay more than A$242,000 in unpaid taxes. The judge said:
"The defendants argue that the court does not have jurisdiction over the defendants or to hear the matter because they are the sovereign of, or citizen of, the Hutt River Province which is an independent sovereign state. That argument has no legal merit or substance. Anyone can declare themselves a sovereign in their own home but they cannot ignore the laws of Australia or not pay tax."
The decision was unsuccessfully appealed in Deputy Commissioner of Taxation v Casley [2017] WASCA 196:
After a 50 year standoff, Australia's most infamous micronation, the Principality of Hutt River, will be ceded back to the Commonwealth of Australia. Prince Graeme Casley confirmed the West Australian principality would be dissolved and the property sold as farmland in order to pay off a growing debt to the Australian Taxation Office (ATO). He said the falling income from tourism due to COVID-19, along with the debt, were the main reasons for the dissolution. The principality has been closed to tourists since January 2020.
The Principality of Hutt River was formed by Prince Leonard in 1970 after a stoush with the State Government over wheat production quotas. Hutt River claimed to be an independent sovereign state and had existed for 50 years, although the Australian Government never legally recognised it.
The principality has long been pursued by the Australian Taxation Office. In 1977, following repeated demands for payments from the ATO, the province declared war on Australia, although the declaration was withdrawn several days later. The family was ordered to pay $3 million in income tax, penalties and interest to the ATO in 2017 after losing a Supreme Court battle. Prince Graeme confirmed the tax debt would have to be repaid, but said he did not believe the sale of the property would cover what was owed. "We are meeting with the ATO to try and come up with a more favourable figure," Prince Graeme said.
For decades tourists from around the world have made the pilgrimage to have their passports stamped and purchase the local currency, the Hutt River Dollar. Prince Graeme hoped the story of Australia's oldest micronation would be remembered. "That's the history, and you can't unwrite it," he said. "You just have to keep the archives and hope the story continues for the family." Prince Graeme said the property would be sold as farmland, and the archives kept safe "under lock and key".
Four people were taken into police custody following a bizarre incident in the WA Wheatbelt town of York on Friday morning. About 8am, members of New Westralia, an organisation claiming to be a "legitimate sovereign authority acting in the interests of the people native of the 'Dependencies of Western Australia'" broke down the door of the historic courthouse and took up residence before police arrived and made arrests.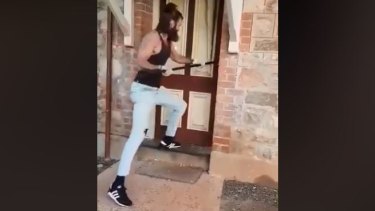 A series of live videos shared on Facebook show the door of the National Trust building, which was built in the 1840s, being smashed and the alarm prompting the attention of a local security guard Referring to their actions as "peaceful protest", two men are shown praying before their sit-in – and apparent attempt to declare a sovereign nation – was interrupted by police. "As a Christian nation New Westralia strives to be a world class destination for spiritual vitality, enlightenment, meditation, wonder and expression, on the great adventure of life," the group's website reads.
Prior to breaking in to the old courthouse the small group raised their own flag – which appeared to have similarities to the St George's Cross – to replace the "satanic" Australian flag. Throughout the group's attempts to establish themselves as the "proper governing body of law for Western Australia", one of the members posted to social media: "I don't have time to answer questions as we are under siege at the current moment in York, Australia and staying strong in our court … please do your research as much as possible, good people … I can only show you the way, we must all attempt our own escape and everything is in play to do so, trust me." Three men and one woman were expected to face court in Northam on Friday afternoon on charges including criminal damage, trespass, and obstructing police."
"It seemed as good a place for an insurrection as anywhere else. But at more than an hour away from the nearest capital city, and with no heads-up to major media outlets, Friday's revolution was not going to be televised. It would, however, be live-streamed on social media, putting the little town of York in Western Australia – briefly – on the national stage. Declared "historic" by the National Trust, York is WA's oldest inland settlement, with more heritage buildings within its small border than in any other town in the state.
The old courthouse that members of New Westralia – the sovereign nation that attempted to overthrow the state government 24 hours ago – broke into and declared ownership of was built in the 1840s. And while New Westralians declare themselves against foreign incursion, domestic insurgency, mercenary, treachery, sedition and treasonous behaviour, exactly where they stand on trespass and criminal damage is up in the air. "Under diplomatic immunity we are all protected by international criminal court," member Wade Guerin told his followers on Facebook during the attempted coup, adding "the new kingdom has come" before being arrested and charged by police along with three of his countrymen. So what does New Westralia stand for? Are they for real? Or are they just the latest in a long line of self-styled revolutionaries in a state that once voted for secession while electing a government opposed to the very same thing?
A 'world class destination for spiritual vitality': Bursting with "future building energy", New Westralia's manifesto describes itself as "an open and inclusive societal structure with organic harmonies, friendships and associations where local, regional and state politics benefit, with enduring international friendships and economic relationships secured by mutual appreciation and understanding of those sovereign interests". They offer world-class resources and commercial opportunities, though what these are is not clear. A call to their listed spokesman went unanswered on Saturday morning, and their online treatise suggests followers may need to exercise some patience. "Specific policy goals are being considered in conjunction with community expectations and wishes," the New Westralia site states.
"This may take a little time to form as we make genuine and concrete partnerships within the community." What they do have is their own flag – England's St George's Cross – and their own official website which calls for donations to help "empower our team to create meaningful change". They also have at least four devotees – two from Bunbury in WA's south and two of no fixed address – all of whom have court dates coming up.
When New Westralia took possession of the old York courthouse on Friday they made it official. Serving notice on the government of Western Australia by way of decrees posted on the courthouse wall, the insurgents declared the building, including all services, theirs. They demanded keys and security codes be handed over within 72 hours in an "orderly and professional manner". Signed by New Westralia's CEO and "magistrate" William Pumphrey, the notice made null and void all current lease agreements and management orders. At the bottom of the notices was an image of the Australian red ensign and the words, "Let we forget". 9
---
DIY Sovereignty and the Popular Right in Australia (Judy Lattas; Macquarie University)
The concern of this paper is with the form that 'right wing' anti-government protest has taken in Australia in recent years. One tactic that is proving popular amongst those who have suffered setbacks in their hold on property, or in their small business ventures, is to declare their secession from Australia, and to establish an alternative jurisdiction and alternative citizenship. The author describes some of these projects, and links the serious political pursuit of this secessionist move to a movement in the USA called Sovereign Citizenship, which is itself linked to recent acts of anti-government sabotage called 'paper terrorism'.
⁠